March 6, 2023
Sam Libraty Author Interview
Tell us a little about yourself. Where were you raised? Where do you live now? Do you have any pets? (Feel free to use this as your opening introduction to new fans that may be interested in your writing.)
OK, I'll do my best to keep it short. (Laughs). Growing up in Pittsburgh, PA, I was fascinated with science fiction, especially books. At 15, I met Gene Roddenberry, the creator of Star Trek, and knew I wanted to write Science Fiction someday. After studying my other passion, music, at Kent State, I pursued a career in music while continuing to write in my spare time.
Later, I transitioned to working in film and television while holding onto my passion for writing. After publishing my first book, The Time Agents: Search for the Leon Key, in 2022, I decided to become a full-time author. I'm working on the second book in the Time Agents series while enjoying time with my family and cats in Los Angeles.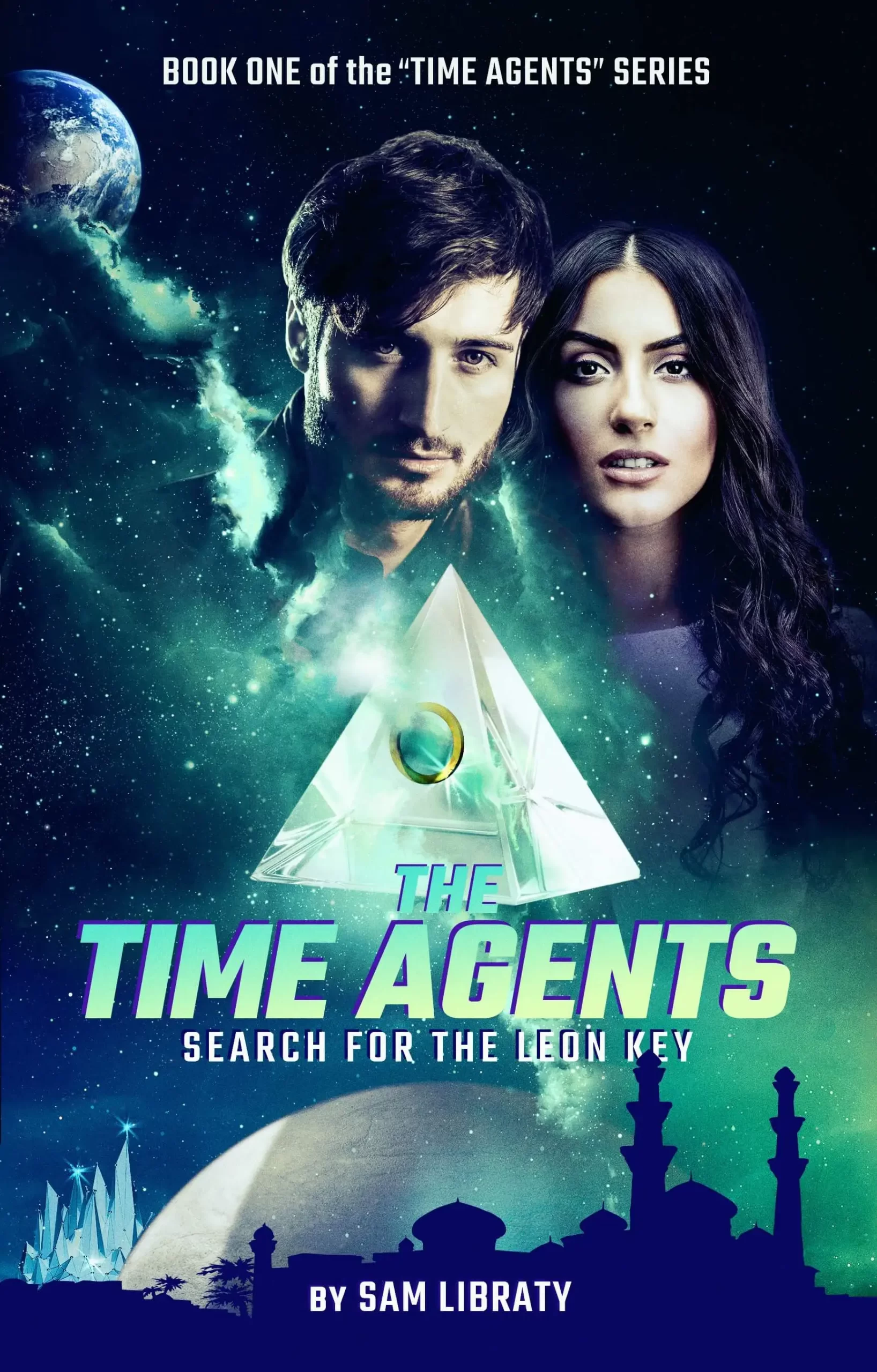 Tell me more about your journey as an author, including the writing processes?
As a writer, one of my goals is to make every story flow smoothly and naturally. I don't believe a good story has to be difficult to read. I focus on the plot and getting to know the characters when I read. Sometimes, authors can get sidetracked by technical jargon, creating holes in the story and making it unnecessary complexity.
However, I still love good technical elements and story structures when done correctly. This is why writers from the 1950s to the 1980s are often referred to as the Deans of Science Fiction. They knew how to tell an engaging story while using technology to further the plot and captivate readers without losing them in technical explanations.
Regarding my writing process, I think the subject matter influences it and how the story presents itself. Ultimately, the story dictates how it wants to be written and developed. Nevertheless, my aim is always to write with clarity in mind.
At what age did you realize your fascination with books? When did you start writing? ( Let the reader get to know a little bit more about you. The more they become familiar, the better the chance they will buy your book.)
From the age of about 6 or 7, I was captivated by storytelling. However, it wasn't until I discovered Saturday morning cartoons, specifically of the science fiction genre, that I was truly hooked.
Shows like Space Ghost and Jonny Quest (my favorite animated science fiction show) transported me to new worlds, and I became fascinated.
Watching TV was my escape from a difficult family life. My interest in the genre grew as I discovered The Outer Limits, The Twilight Zone, and Star Trek, of which I am a lifelong fan. That's around when I discovered books and how they could transport me to other realities.
Meeting Gene Roddenberry, the creator of Star Trek, at age 15 was a pivotal moment that solidified my passion for writing science fiction. I even had the opportunity to walk him to his hotel and chat about the genre. Meeting Leonard Nimoy, who played Spock in Star Trek, was another highlight of my journey. Live long and prosper!
That was around the time I started dabbling in writing short stories, mainly for my own benefit.
Who are your favorite authors to read? What is your favorite genre to read? Who Inspires you in your writings? (Feel free to elaborate here.)
My first and most intense influence was the writing of Robert A. Heinlein. The "Grand Old Master of SF." Many of his early books were written for younger readers and really took me to other worlds. His works for adults were jam-packed with great characters, and the plots were sublime.
Other very influential authors include but are not limited to:
Arthur C. Clarke               Larry Niven
Robert Silverberg            Kurt Vonnegut Jr.
Robert A. Heinlein           Andy Weir
Poul Anderson                 Douglas Adams
Theodore Sturgeon        Samuel R. Delany
Isaac Asimov                    George Orwell
Tell us a little about your latest book. (You want to get the reader to buy your book, so make it interesting. You can go into detail about the characters if you wish. You should mention how long it took you to write. Readers like that stuff.)
This book will take you on a thrilling journey through time and space! In this action-packed novel, you'll follow the daring exploits of Jon Howe, a time-traveling agent tasked with keeping the timeline stable at all costs.
An impending invasion threatens our universe. Jon must go back to 1939 Casablanca to find the key to a parallel universe and stop the invasion. Along the way, he'll encounter strange timeline events, uncover hidden secrets, and face off against an unhinged maniac determined to destroy everything in his path.
But that's not all – Jon's heart also has its own mission. He finds himself irresistibly drawn to the enigmatic Shoshanna, an intelligent, fiery, and exotic woman who seems to hate him on sight. As he tries to win her love, Jon realizes that Shoshanna is not what she seems, and their relationship could have far-reaching consequences for the fate of the world.
This book is a must-read for any fan of sci-fi and fantasy! With well-defined characters, pulse-pounding action, and a dash of romance, it will keep you on the edge of your seat from beginning to end. Will Jon save the world and win Shoshanna's heart, or will his enemies defeat him? You'll have to read it to find out!
This book took about a year to complete. With many direction changes, the story's core found its way to the right plot. From then on, it seemed to write itself.
Purchase Links:
https://books2read.com/u/mY8kax?redirect=off
https://www.amazon.com/gp/product/B0BMWC9JS5?tag=
https://books.apple.com/us/book/the-time-agents-search-for-the-leon-key/id6444382151
https://www.barnesandnoble.com/w/the-time-agents-sam-libraty/1142664888?ean=2940166741776&st=AFF&2sid=Draft2Digital_7968444_NA&sourceId=AFFDraft2Digital
https://www.audible.com/pd/The-Time-Agents-Search-for-the-Leon-Key-Audiobook/B0BQZF4K9R
Website Link:
Facebook Page:
https://www.facebook.com/sam.libraty
Instagram Link
https://www.instagram.com/samlibratyauthor/
LinkedIn:
https://www.linkedin.com/in/samlibraty/
Twitter Link
https://twitter.com/SamLibraty
Email:
www.contact@samlibraty.com
Phone:
818-693-9077
Get eBook Now
Product Details
Author: Sam Libraty
Kindle Price: $0.99
Audiobook: $0.00
Paperback: $15.65
ASIN: ‎B0BMWC9JS5
Publisher: ‎Sam Libraty (November 18, 2022)
Publication date: ‎November 18, 2022
Language: ‎English
File size: ‎804 KB
Text-to-Speech: ‎Enabled
Screen Reader: ‎Supported
Enhanced typesetting: ‎Enabled
X-Ray: ‎Not Enabled
Word Wise: ‎Enabled
Sticky notes: ‎On Kindle Scribe
Print length: ‎201 pages
Best Sellers Rank: #827,716 in Kindle Store